March 6, 2017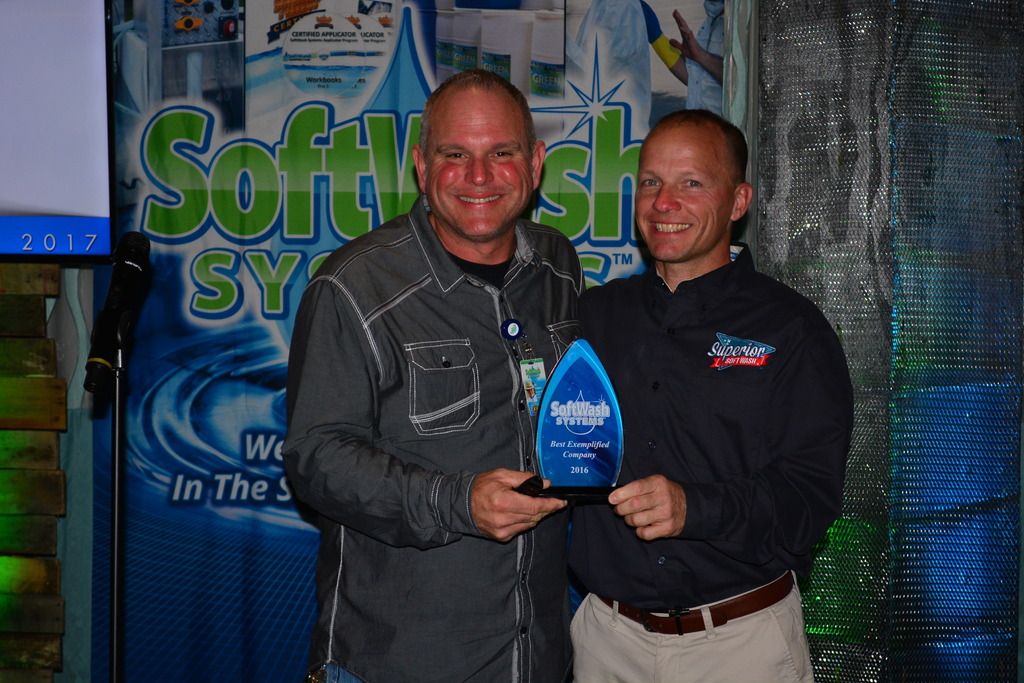 Superior SoftWash of Linthicum Named Best Exemplified SoftWash Systems Company
Jeffrey Kirby, President of Superior SoftWash, received SoftWash's highest award at the 6thAnnual SoftWashapolooza, SoftWash Systems Convention and Awards Banquet 
Linthicum, MD. February 13, 2017 – A.C. Lockyer, owner and creator of SoftWash Systems, a Florida based company, presented Superior SoftWash as Best Exemplified SoftWash Systems Company.  The award is based on their 50-point standard of ethics, customer service and effective business development developed by the environmentally friendly exterior cleaning company.
A.C. Lockyer said, "We at SoftWash Systems are proud of the immense effort Jeff Kirby and Superior SoftWash have invested in 2016 to become an example to those in our nationwide network of softwashing companies.  The Best Exemplified SoftWash Systems Company award was well deserved for Jeff and his team."
Kirby founded his power wash company in 2013 and rebranded in 2015, letting go of $200,000 in annual contracts in favor of softwashing, a more environmentally friendly and effective cleaning method.  In 2015, Superior SoftWash relocated to their current Linthicum location, having outgrown their Pasadena office.  This is the second award Superior SoftWash has won at the annual convention, having won the Rookie of the Year Award in 2016.   
Jeffrey Kirby said, "We are elated to be named Best Exemplified Company by SoftWash Systems.  This award is reflective of our commitment to delivering the best customer service experience available to our clients in exterior cleaning."  
With a background in plant sciences, A.C. Lockyer developed softwashing when he started thinking of the bacteria, mold, fungus and algae growing on the outside of buildings as more of an infestation than a stain.  With this thought in mind he was able to refine a cleaning system that employs only biodegradable cleaning solutions that cleans and sanitizes exterior surfaces without the environmental and physical damages of a pressure washing system.  The result lasts 4-6X longer than pressure washing while using 66% less water. 
Reflective of their tremendous growth and growing expertise, Jeffrey Kirby was also appointed to SoftWash Systems' Pro Staff.  His responsibilities include teaching at SoftWash Systems' industry leading SoftWash Academy in Sanford, FL.
In addition, while taking the initial loss of contracts due to leaving traditional power washing, Kirby has been able to continually grow his business by 50-100% annually, while building brand awareness of their softwashing process. 
According to Jeffrey Kirby "Using environmentally responsible cleaning systems just makes sense.  When you can deliver a superior service, and make a meaningful impact on the environment, why would you do anything else?"
To learn more about Superior SoftWash, visit http://www.superiorsoftwash.com/.
About Superior SoftWash
Superior SoftWash cleans both homes and commercial properties throughout Maryland, DC and northern Virginia.  Superior SoftWash employs 11 full-time and 5 part-time employees throughout the cleaning season. Visit Superior SoftWash on the web at http://www.superiorsoftwash.com/, or call them at 410-360-2710.
About SoftWash Systems
SoftWash Systems, a Florida-based company, is the worldwide leader in providing softwashing equipment, cleaning solutions, education and support.  SoftWash System's in-network companies provide services coast to coast in the United States, Canada, Central America, the Caribbean and most recently, in Europe.  SoftWash Systems is committed to providing environmentally responsible cleaning systems.